Hey, everyone!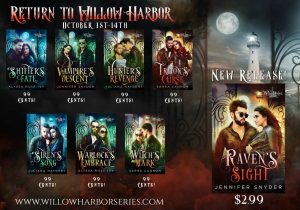 We've got something special to announce today...for the first time ever books 1-7 in the Willow Harbor series will be discounted to 99cents. This deal will last until 10/14/18!
This means if you haven't had the chance, or the cash, to purchase them all and fall in love with the supernatural beachside town of Willow Harbor now you can! You can actually purchase all eight books in the series in ebook format for only around TEN BUCKS! That's 8 full-length, standalone, supernatural, sweet romance books for about $10.
What an amazing deal!
In case you missed the cover reveal for Raven's Sight (Willow Harbor Book 8) here's the info:
Sometimes in order to let go of the past, we have to fight for our future...
Lena Reynolds can't seem to escape her past. It twists her dreams into nightmares and plagues her every thought. When an object bearing the symbol of those the raven shifter has been running from finds itself in her hands, she fears her past may have finally caught up with her.
Thane Jensen has no memory of how he got to the beachside town of Willow Harbor. In fact, he barely has any memories at all. Somehow he knows the dark-haired beauty he saw standing beneath the willow tree has the answers he seeks, though. If only he can get her to stop running from him.
As the mystery of Thane's memories unfolds, Lena must decide if she's willing to stay in the supernatural town she's come to love and fight or give into her raven and fly away.
Coming 10/3!
And now on to the sale...
Where will you start your visit to Willow Harbor?